Automotive & Transportation
12 Jan 2022
By Makreo Research and Consulting
How China Logistics Market is Shaping Up after the Virus Outbreak?
The china logistics market has witnessed strong market growth in recent years and after the COVID-19 disrupted operations and supply chain worldwide, the sector has gained attention. Emerging economies are rapidly developing their Freight and Logistics market infrastructure to manage the demand supply gap.
Trade has grown as an important component of China's overall economy, and it has been a key tool in the country's economic modernization and this is benefitted the freight and logistics market.
China has progressed from a primitive, low-cost manufacturing location to a cutting-edge global supply chain hub that has accelerated freight and logistics market as well.
The China logistics market is highly fragmented wherein the third-party logistics companies fall into three categories in the logistics value chain: freight forwarders, warehousing agents, and express companies.
According to the China logistics market report published by Makreo Research and Consulting Firm, China ranks second in global exports with 8.9% share, by shipping nearly 40% of its exported goods to the EU and the US.
The United States ranks third in terms of export volume, with an 8% global share, shipping 21% of its exports to the EU and 5.5% to China.
Economy after the Virus Outburst
The Chinese economy has steadily recovered from a 6.8% decline in GDP in the first quarter, with year-on-year growth rates of 3.2% and 4.9% in the second and third quarters, respectively.
As a result, in 2020, the country witnessed an annual growth of 2.3% and has become the world's only economy that has achieved positive GDP growth in 2020.
Even by 2021, China's economy is expected to outperform most major economies. The difference in growth performance between 2020 and 2021 may greatly narrow the gap between the US and Chinese economies.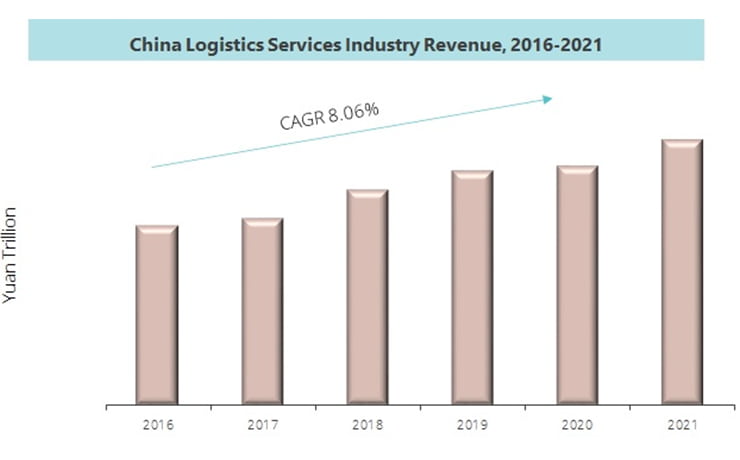 Logistics Market in China
On a revenue basis, the China Logistics market has grown at a CAGR of XX%. The market is booming as a result of China's effective increase in infrastructure investment, growing digital innovations, and growing logistical requirements.
The freight forwarding segment leads the logistics industry in terms of revenue, followed by courier and parcel activities and warehousing.
China logistics industry is benefitting from overseas trade however after the virus outburst shipments have been delayed initially due to trade restrictions and later overcrowded shipments in the ports.
In China freight and logistics market, shipping costs have risen dramatically in recent months, for instance, a container shipment from China to the US that used to cost USD 100 previously has grown to USD 600, hence there is six times rise in shipment cost owing to shortage of containers, high traffic at ports.
US has decreased its exports to bridge demand supply gap in the domestic market and this has directly impacted logistics business as containers exported to US are returning back empty.
In the China logistics market report we have discussed the interruption in global supply chains that have caused shortage of consumer goods and has increased the cost for businesses to ship goods.
Unresolved issues, as well as the fear of different variants of the virus, such as the Delta variant and recently spreading Omicron cases, suggest that shoppers will face increased prices and fewer options during the holiday season.
Adidas (ADDDF), Crocs (CROX), and Hasbro (HAS) have already warned of disruptions as they prepare for the critical year-end period.
China freight and logistics market is benefitting from country's technologically advanced large population base also China logistics industry infrastructure is well placed for international transit that makes the country's position stronger in the global freight and logistics market.
Regulatory Supports: As stated in China logistics market report, China's Belt and Road Initiative is estimated to spend extensively in logistics infrastructure, particularly the railway system connecting Europe and China.
Trade agreements and infrastructure investment along the Belt and Road Initiative corridor will significantly increase international trade and, as a result will benefit logistics market in China.
Growing Urbanization and Consumption upgrade: With higher consumption by both urban and rural residents, the demand for specialized logistics services ability to handle critical and time-sensitive items like perishables, seafood, and fresh-cut flowers will rise.
Because China's cold chain logistics sector is still underdeveloped, this will almost certainly provide ancillary growth opportunities for China logistics industry.
During the COVID-19 outbreak, China's logistics capacity was severely depleted. Taking road freight as an example, because cities across the country were shut down, road transportation came to a halt.
Furthermore, the COVID-19 outbreak occurred during the Chinese Spring Festival, and the majority of logistics employees were forced to return to their hometowns, aside from their workplaces.
There was a severe lack of workforce in the China logistics market as a result of the instant government's control measures on people's mobility. As a result of these disruptions, transportation capacity is in short supply.
According to the research report "China Logistics Industry COVID-19 Impact and Outlook to 2026", published by Makreo Research and Consulting Firm, logistics market in China has seen consistent growth as a result of country's rapid economic progress and manufacturing centric economy.
According to the China logistics market study, China logistics industry is expected to grow at a CAGR of 9.33% 2021-2026.
The demand of Chinese logistics market will gradually increase led by a series of measures issued by the country's government to encourage consumption (e.g. issuing consumption coupons for shopping and travels) and mushroom the scale of transportation (e.g. implementing free highway traffic policy).
Role of E-commerce in Logistics
The growing adoption of e-commerce is expected to drive demand for logistics services such as inventory management and express delivery. Aside from the largest e-commerce companies, most businesses are likely to invest in and build their own logistics systems.
As a result, demand for 3PL service providers is expected to rise significantly, particularly in third to sixth-tier cities where demand for logistics services has been rising.
According to China logistics market report, China is home to the world's largest e-commerce market, with more than half of the global e-commerce transactions taking place in the country.
According to the International Trade Administration, an agency in the United States Department of Commerce, online retail transactions in China amounted to USD 1.93 trillion in 2019.
China's online retail sector is the largest in the world. The pandemic made the pie grow even larger. The impact of COVID-19 on the online retail sector during 2020 was evident through a steep increase in demand and supply amid lockdown measures.
The penetration of online retail transactions increased as consumption shifted from offline retailers.
E-commerce exports were CNY 1.12 trillion, up 40.1% on a yearly basis while imports stood at CNY 570 billion, up 16.5% Y-o-Y and this trend has left a direct and positive impact over the freight and logistics market.
The freight and logistics market is attracting strong foreign direct investment that is growing at double digit rate after the virus outbreak. Many start-ups are mushrooming up to build more advanced channel of logistics infrastructure to manage operations effectively and to build more effective Freight and Logistics market.
Key Growth Factors for China Logistics Industry:
China has made significant investments in transportation infrastructure, there has been a remarkable connectivity improvement both within China as well as between China and other countries.
In China freight and logistics market report, Infrastructure has been described in detail, including following areas:
Road Transport
Rail Transport
Air Transport
Maritime Transport
In 2020, the volume of freight carried on railways has increased by 4.1% year on year, as economic activity steadily recovered. China has released its wide National Transport Planning Outline 2021-2035, reinforcing its goal of expanding the national rail network to 70,000 kilometers of high-speed lines and 130,000 kilometers of conventional lines by 2035. This step will benefit China logistics market in the coming years.
The production stagnation during the Covid-19 lockdown has severely affected the freight and logistics market. Country's total freight and logistics market volume declined by 19.8% in comparison to the same period last year.
China freight and logistics market report study the Impact of COVID-19 over various parameters including:
Impact on Trade
Impact on Economy
Impact over freight and Logistics market
China freight and logistics market has maintained its recovery momentum and showed positive growth in the first half of 2021 as compared to pre-pandemic level in 2019.
The report on China Freight and Logistics Market helps the readers with various parameters, as listed below:
To understand the present scenario of China logistics market and China Logistics Market COVID-19 Impact.
To know the major driving forces accountable for shift in demand of China Freight and Logistics Market also understand the market challenges hampering the growth.
To understand the rail freight demand and key developments taking place in the freight and logistics market.
To gain insights on air freight demand and shipments.
To gain insights on land freight performance.
To gain insights on sea freight performance, shipments and cross border shipment challenges.
To study Logistics Infrastructure Development in China and how freight and logistics market is shaping up?
What all segment offers high growth prospects and what are the key forces?
To know the importance of logistics in E-commerce industry of China.
To evaluate the present economic environment of the country and assess the China Logistics Future Revenue.
To know the leading players and their present state of financials and business development in the freight and logistics market?
The freight and logistics market report will facilitate the policymakers, the investors, new incumbents in the China logistics market, the automobile manufacturers to understand demand pattern for commercial heavy vehicles, the E-commerce players, the shipping companies and many others.
For more information on the research report, refer to below link:-
China Freight and Logistics Market
Follow Us:
Contact Us:
Makreo Research And Consulting Firm
Call: +91-9619699069
Email: info@makreo.com